Cook Counseling and Consulting Inc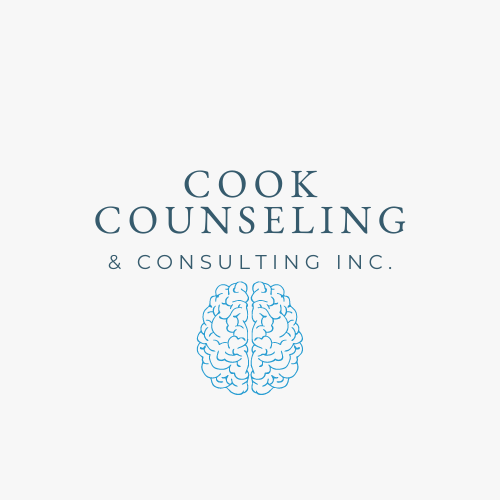 Practitioner identifies as:
ADHD, Depression, Neurodivergent, PTSD
Cook Counseling and Consulting Inc. is a group of highly trained professionals providing mental health services based in Columbus, Ohio. We work with individuals, couples, and families across the lifespan, with a focus on young adults. We are also experts in LGBTQIA+ and ENM/ polyamory. Many of our clients have found great success in many facets of their lives but struggle to manage their emotions and stress. We are particularly sensitive to those experiencing life transitions like moving, a breakup, changing jobs, graduating, or beginning a new relationship when self-doubt and increased anxiety and depression can emerge.
Our approach is rooted in evidence-based treatment that focuses on helping clients understand how their thoughts, feelings, and behaviors are related so that they can begin making targeted and sustainable changes. Our clinicians blend person-centered therapy with modalities like cognitive-behavioral therapy, dialectal behavior therapy, motivational interviewing and acceptance, and commitment therapy. We work to help clients understand their physical and emotional responses to stressors and learn to problem-solve ways to introduce moments of calm, to choose to respond rather than react in the face of change.
Cook Counseling and Consulting Inc. is focused on making sure that our clients see real progress. We are warm, laid back, and affirming. We are sensitive to the influence of past experiences on present challenges, and we work closely with clients to reframe the narrative of their life in a way that increases self-confidence and self-compassion. Our first priority in starting with a new client is ensuring that they feel safe, heard, and like an equal partner in the therapeutic process. We offer the convenience of remote sessions to help make therapy a core component of your self-care calendar.
Cook Counseling and Consulting Inc. specializes in treating anxiety, depression, trauma, and life transitions. We work with people of all ages, couples, and families. We provide therapy and medication management services for various mental health symptoms and concerns. We are particularly interested in taking a holistic approach to mental health treatment and working collaboratively with our clients to set goals for treatment and overall functioning.
Cook Counseling and Consulting Inc. is open and affirming to all lifestyles and identities. We create a warm and welcoming environment so you can show up as your authentic self without fearing judgment. We are a group of highly trained and skilled providers ready to help you reduce mental health symptoms and improve overall well-being. We take a holistic approach and work to improve your quality of life. We provide therapy and medication management services to clients.
At Cook Counseling and Consulting Inc., we are in-network with Aetna, Anthem BCBS, AllOne Health EAP, Cigna and Cigna EAP, Medicaid, Medical Mutual, Oxford, Oscar, OSU HealthPlan, Optum and Optum EAP, SpringHealth EAP, Tricare, United Healthcare, UnitedMedical Resources, Wellspring EAP. If you do not have one of these health insurances, our fees range from $150-$200, depending on the provider and service offered. We are happy to generate superbills that you can submit to your insurance provider for reimbursement for out-of-pocket expenses.